Events
Events are just one way we say thank you to TAF donors.
Upcoming Events
TAF Thank-A-Thon
On April 23 and 24, current LSU student-athletes will participate in TAF's annual Thank-A-Thon event.  Student-athletes will call donors and thank them for their support of LSU Athletics.  Follow along on social media on April 23 and 24! 
2018 Tiger Football Caravan Shreveport
Hosted by the Ark-La-Tex Tigers TAF Chapter

Monday, April 23, 2018
5:30 to 9:00 P.M.
Riverdome at Horseshoe Casino - Bossier City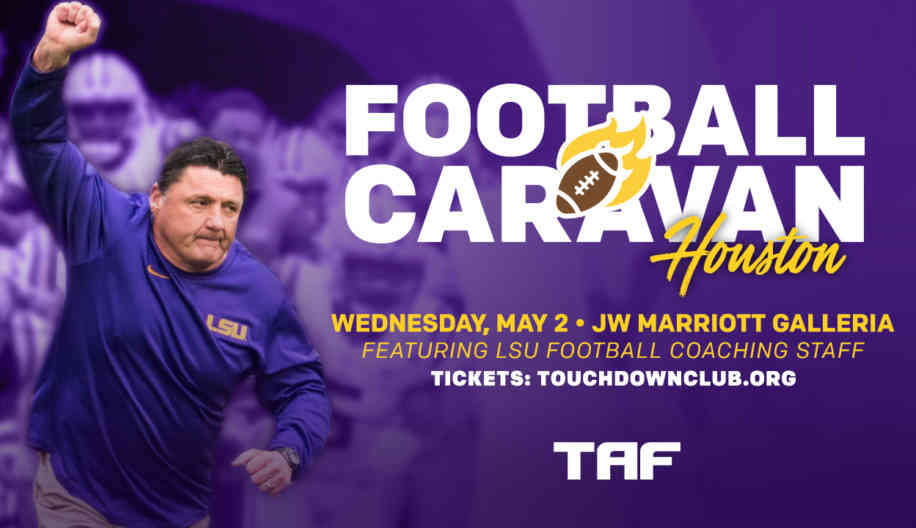 2018 Tiger Football Caravan Houston
Hosted by Houston Touchdown Club
Wednesday, May 2, 2018  
Doors - 11 A.M.
Event - Noon 
JW Marriott Galleria

Fighting Tiger Baseball Tailgate
Fighting Tiger level members are invited to join us for the 2018 Fighting Tiger Baseball Tailgate prior to LSU vs. Alabama.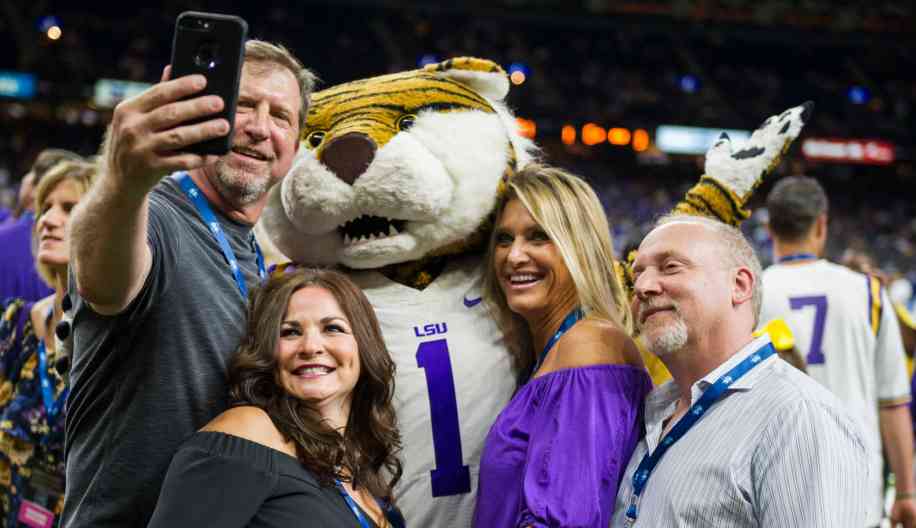 LSU Tailgate Party vs. Southeastern Louisiana
Open to all TAF, LSU Alumni Association and LSU Foundation members with a current membership card. The LSU Tailgate Party sponsored by PeoplesHealth is in the PMAC prior to LSU Football homegames when kickoff after 1:30 PM.
Remember to Geaux Clear! LSU's clear bag policy will be in effect for the LSU Tailgate Party. You can enter through the Southwest ramp by Mike the Tiger's Habitat or at the Northwest Stairs along the track side of the PMAC. To learn more, visit lsusports.net/GeauxClear.
LSU TAILGATE PARTY POLICIES
• LSU Athletic Venue Clear Bag Policy is in place for the LSU Tailgate Party. Please see LSUSports.net/geauxclear for a complete list of approved and prohibited items. All items are subject to search.
• Bags and Items that do not meet guidelines cannot be left unattended.
• Animals other than service animals are not allowed into the LSU Tailgate Party.
• Coolers and ice chests of any kind are prohibited.
• Outside alcohol is prohibited.
• Outside food and non-alcoholic beverages are allowed, but may be subject to inspection.
• Weapons of any variety are prohibited- firearms, knives, pocket knives, multi-function tools, etc.
Confiscated items will be destroyed and not returned.
Updated 9/18/2017
ABOUT THE LSU TAILGATE PARTIES
LSU Tailgate Parties sponsored by Peoples Health are held at the Pete Maravich Assembly Center (PMAC) for all Saturday home football games that kickoff after 1:30 PM.
LSU Tailgate Parties will open 3 1/2 hours prior to kickoff and conclude with a performance by the Golden Band from Tiger Land roughly 1 hour 10 minutes before kickoff.
LSU Tailgate Parties are open to all TAF members, LSU Alumni members, LSU Foundation members, LSU Recent Graduate Program members, LSU Collegiate Club members, and their guests. A current membership card from one of the qualifying organizations is needed to gain access to the Tailgate Parties.
There are TWO entrance points for the LSU Tailgate Party at the PMAC. They are located on the Southwest Ramp (closest to Mike's Habitat) and the Northwest Stairs (on the Bernie Moore Track side of the PMAC).
LSU Athletic Venue Clear Bag Policy is in place for the LSU Tailgate Party in the PMAC. All guests must adhere to the policy and go through bag check at the entrances of the party.
If you are a TAF member and have not received the current year's membership card, contact Courtney Albritton at CourtneyA@lsutaf.org. If you would like to become a TAF member, please click here for more information.
If you need a temporary TAF membership card, one can be obtained by visiting the PMAC ticket office located on the ground floor behind Mike the Tiger's habitat. It open 4 1/2 hours prior to kickoff. The PMAC ticket office will remain open until 2 hours prior to kickoff.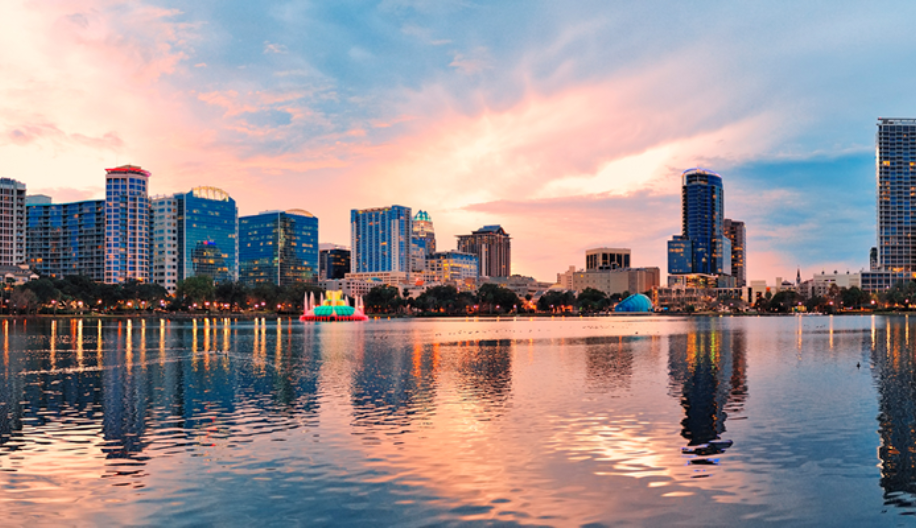 Advocare Invitational with LSU Basketball
November 20 - November 25, 2018
Fly round-trip, non-stop from Baton Rouge to Orlando with LSU Basketball and Mr. Fun's Travel and be part of the excitement at the Advocare Invitational. Enjoy deluxe accommodations at the Orlando World Center Marriott plus LSU basketball festivities.