Coming in 2019
LSU Athletics Nutrition Center
LSU student-athletes will be fueled to win.  Under the direction of the LSU Athletics Sports Nutrition team, the nutrition center will facilitate education, foster physical and mental wellness through eating right, and better support the needs of each individual student-athlete.  

The LSU Athletics Nutrition Center will be housed in the LSU Football Operations Center and serve every student-athlete on every team.
Project Features
Athletes Support
Housed at the front of the LSU Football Operations Center, the LSU Athletics Nutrition Center will not only be a place to feed the physical health of student-athletes, but their mental health as well.  It will be a place where student-athletes can feel at home, create friendships and build comradery with student-athletes from all 21 varsity sports.
Nutritional Education
 Through signage, digital displays that match menus, and other tools, the LSU Sports Nutrition team hopes to educate and teach student-athletes how to eat right for their lifestyle as a student-athlete, how to maintain energy, and improve performance through nutrition.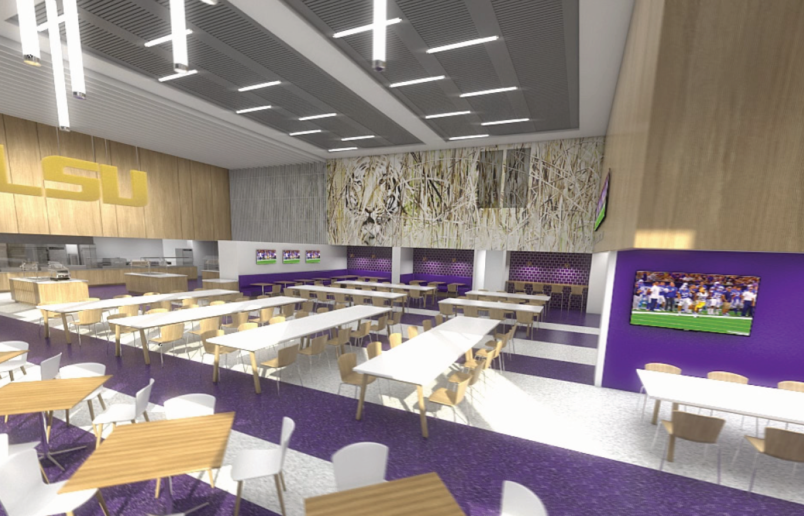 Dining Hall
The new nutritional facility will benefit all student-athletes from the 21 varsity sports with a large dining hall offering multiple options for fueling up before practice or replenishing after competition.
Through high quality whole foods and menu revisions, LSU student-athletes will experience an improvement in their health, performance, and recovery.
Once I got to LSU I quickly realized that it was way more than just a great place to further my career. LSU was and still is family to me, and I think that is what makes LSU so unique.